Podcast: HTML5, CSS3 and More Developer Enhancements in IE9
Senior Project Manager for Internet Explorer, Pete LePage (@petele), joins Pixel8 to discuss the upcoming HTML5 and CSS3 support for IE9 along with a review additional developer enhancements coming in IE9.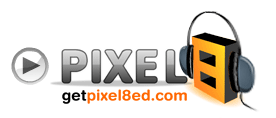 What's Coming in IE9?
Hardware acceleration
HTML5
CSS3
JavaScript optimizations
Selection API
Media queries
HTML5… So What's Taking So Long?
The spec has some stable parts, but much of it is still some still volatile
Pete discusses how the W3C will decide when the HTML5 spec is "done"
Dangers of developing against a moving target (for browser makers as well as web developers)
HTML5 in IE
You can experience the ongoing support for HTML5 by visiting http://ietestdrive.com:
Parts of HTML5 that are support in IE9 include:
Also in the interview…
Pete and Craig also discuss:
Are the Browser Wars Back?
What is the Platform Preview?
How is JavaScript processing affected?
What parts of the CSS3 spec are being implemented in IE9?
How do media queries work?
What does the selection API do?