Our Round Table Podcast gets legit - Now we're the Herding Code Podcast (herdingcode.com)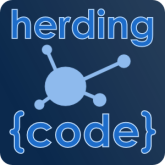 We've been experimenting with a weekly technology round table podcast for the past five weeks; now we have our act together to the point where we're ready to officially launch it. We're at HerdingCode.com, and you can subscribe to our feed at http://feeds.feedburner.com/HerdingCode on your iPod, Zune, or whatever crazy podcast client you choose.
By we, I mean:
Head on over and give it a listen. On the current episode, we argue discuss whether Silverlight is just another flavor of ActiveX, or if it's here to stay.