AGENT: The World's Smartest Watch
AGENT: The World's Smartest Watch
by Secret Labs + House of Horology
Disclaimer:
Most if not all of this content has been gleaned from the comments on the Kickstarter project page and comments section. Any discrepancies between this post and any documentation on agentwatches.com, kickstarter.com, etc.., those official sites take precedence.
Overview
The next generation smartwatch with brand-new technology. World-class developer tools, unparalleled battery life, Qi wireless charging.
Funding period : May 21, 2013 - Jun 20, 2013
MSRP : $249
Other Urls
https://www.facebook.com/agentwatches
http://twitter.com/agentwatches
http://pinterest.com/agentwatches/
http://paper.li/robchartier/1371234640
Developer Story
The first official launch of the preview SDK and emulator will happen on 20-Jun-2013.  All development will be done in Visual Studio 2012, using the .NET Micro Framework SDK 2.3.  The SDK will ship with the first round of the expected API for developers along with an emulator.
With that said, there is no need to wait for the SDK.  You can download the tooling now and get started with Apps and Faces immediately.  The only thing that you will not be able to work with is the API; but for example, watch faces, you can start building the basic face rendering with the Bitmap graphics drawing in the .NET Micro Framework.
Does it look good?
Before we dig into any more of the gory details, here are a few photos of the current available prototype models.
The watch on the tiny QI Charter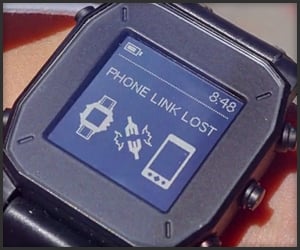 If you wander too far away from your phone, your watch will let you know with a vibration and a message, all but one button will dismiss the message.
An app showing the premium weather data!
Nice stitching on the straps, leather and silicon will be available, along with a few lengths to choose from (short, regular, long lengths).
On to those gory details….
Hardware Specs
Processor
120MHz ARM Cortex-M4 processor (ATSAM4SD32)
with secondary AVR co-processor
Flash & RAM
2MB of onboard flash and 160KB of RAM
1/4 of the onboard flash will be used by the OS
The flash is permanent (non-volatile) storage.
Bluetooth
Bluetooth 4.0 BD/EDR + LE
Bluetooth 4.0 is backwards compatible with Bluetooth 2.1, so classic Bluetooth functions (BD/EDR, SPP/AVRCP/PBAP/etc.) will work fine.
Sensors
3D Accelerometer (Motion) ST LSM303DLHC
Ambient Light Sensor
Hardware power metering
Vibration Motor (You can pulse it to create vibration patterns, not sure about the vibration strength - driven with PWM)
No piezo/speaker or microphone.
Other
QI Wireless Charging, no NFC, no wall adapter included
Custom LED Backlight
No GPS in the watch. It uses the GPS in your phone.
AGENT watch apps are deployed and debugged wirelessly from your PC via Bluetooth.
RoHS, Pb-free
Battery
Estimated charging time from empty is 2 hours with provided charger
7 Days typical with Bluetooth on, 30 days with Bluetooth off (watch-face only mode)
The battery should last at least 2 years, with 100s of charge cycles.
Physical dimensions
Roughly 38mm top-to-bottom on the front face
35mm left-to-right on the front face
and around 12mm in depth
22mm strap
Two ~1/16" hex screws to attach the watch pin
The top watchcase material candidates are PVD stainless steel, brushed matte ceramic, and high-quality polycarbonate (TBD).
The glass lens is mineral glass, Anti-glare glass lens
Strap options
Leather and silicon straps will be available
Expected to have three sizes
Display
The display stays on 100% of the time.
Dimensions: 128x128 pixels
Buttons
Custom "Pusher" buttons, they will not make noise like a mouse click, and are very durable.
The top-left button activates the backlight; bottom-left changes apps; three buttons on the right are up/select/down and can be used for custom purposes by apps.
Backup reset procedure is currently activated by holding the home/menu button and the top-right user button for about ten seconds
Device Support
Android 2.3 or newer
iPhone 4S or newer
Windows Phone 8 or newer
Heart Rate monitors - Bluetooth SPP or Bluetooth LE (GATT) is what you'll want the heart monitor to support.
Almost limitless Bluetooth device support!
Internationalization & Localization
Full UTF8 Support from the ground up.
AGENT's user interface is in English. Your content (caller ID, music tracks, notifications) will be in your native language. We have a plan to cover most major character sets, with Latin characters pre-loaded on the watch.
Simplified Chinese will be available
Feature overview
Phone lost alert
Caller ID
Music Control (possible volume control)
Wireless Charging
Timer
Stopwatch
Vibrating Alarm (possibly custom vibrations for caller id)
A few default watch faces
Airplane mode (by demand or low power)
Can be turned off completely
Customizable 3rd party watch faces, applications which can be loaded over bluetooth.
Sample apps that maybe installed
Weather
Sample Apps not installed
Other
Possible Skype integration over Bluetooth.
They will provide an AGENT app for your smartphone (iPhone, Android, Windows Phone). You'll be able to use it to load apps onto the watch..
You will be able to cancel phone calls. With compatible phones you can also answer, end, etc. They are adopting the standard hands-free profile to provide these features and caller ID.
1 Comment
Awesome!! A watch with so many features...