What happened to TestDriven.NET 1.0?
In the comments "A" says:
To be honest, I'm with Microsoft on this one. It seems to me that the four salient events were:

Jamie releases TestDriven.NET free for everyone to use
Jamie is made an MVP
Jamie then makes TestDriven.NET non-free
Jamie's MVP status is removed

Personally I think it was very bad behavior, taking a free product and starting to charge for it. (Most other products that have developed along similar lines continue with the free base product and charge for 'Professional' or 'Enterprise' editions with extra features.) Starting to charge for a product the community supported and advocated is like a slap in the face for that community, and I can see why Microsoft don't want the MVP badge to be associated with that. It could be that they don't want to give visibility to a product that competes with a small portion of TFS, or it could be that (as Roy Osherove says) they don't like him introducing features to the Express editions, but I think that they just don't like the way he treated his community of users. Now there's no indication there ever was a free version, and although you can download the latest version you're expected to pay for it unless you're a trial user, a student or an open-source developer. If you object to the new licensing, there's no way to download the previous, free version that doesn't have the new licensing terms. Please note that I don't object to paying for software, and I don't think the asking price of $95 is too much. What I object to is the 'bait and switch' approach of getting a community advocating a free product and then robbing the community of that free product.
There is only one reason that TestDriven.NET 1.0 is not available for download. Believe me I don't want to be in the precarious position where I only have a pre-release version of my product available. There are many companies that won't touch pre-release software, no matter how stable it may be! As far as these companies are concerned I don't even have a 1.0 version!
You can see from the screenshot below why I removed it: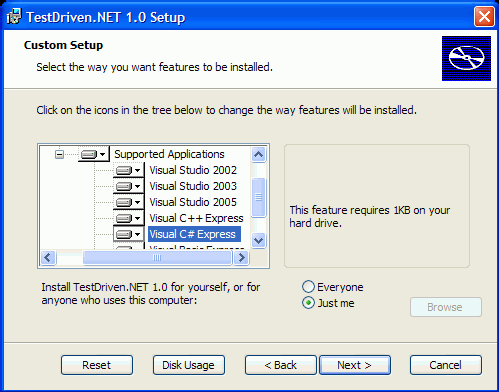 When I was developing TestDriven.NET 1.0, I didn't have an MSDN account. My primary job was as a Java consultant. Working on TestDriven.NET was something I did between consultancy gigs as a hobby. While Visual Studio 2005 was being developed, the Express SKUs were released to the general public before the Team Suite betas. As a hobbyist .NET developer it was only natural that I use and track changes in the Express SKUs. It took me about a day to have TestDriven.NET working again when beta 2 came out.
Last year when I was made an MVP, I did have access to Visual Studio 2005 Team Suite. This is when support for Team Suite's code coverage was added. When Jason Weber and my then MVP lead Ben Miller requested that I remove support for the Express SKU, I was very conscious that I was still a hobbyist .NET developer. The only reason I had access to Team Suite was because of my MVP status. I thought dropping support for the Express SKU without a good explanation would be a betrayal to other hobbyist developers (especially if the reason for dropping it was to keep my MVP award!)
Removing the TestDriven.NET 1.0 download had absolutely nothing to do with removing the free version. In fact the license for TestDriven.NET 1.0 is very similar to the license for TestDriven.NET 2.0 Personal. You can use them for free if you wish, but you can't redistribute either of them. I do request that people using TestDriven.NET on commercial projects buy a professional license. Enterprise licenses are only required if you are redistributing TestDriven.NET inside your organization. I think it's a little unfair to call this 'bait and switch'.