Office 2007, VS 2005 Tools for Office, and VS 2005 Extensions for SharePoint
Last week Microsoft released Office 2007. For those of you who haven't tried it yet, this is probably the biggest release of Office since Office 95 and is a really awesome upgrade. Among its biggest innovations is the introduction of the new "Ribbon UI" paradigm - which provides a significantly new and improved user experience (menus are no longer used):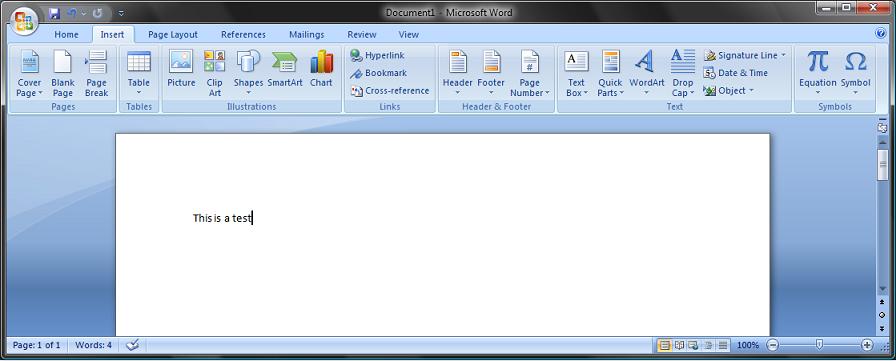 When I first heard that Office was introducing a brand new UI paradigm, my initial reaction was "wow - that is pretty bold". It isn't every day that a team is willing to make a multi-billion dollar bet like that...
After using Office 2007 as my only version of Office the last few months, I really have to take my hat off to the Office team - the move was a stroke of genius. It has not only made me significantly more productive, but it has also really made working with Office fun again. So fun in fact that it helped inspire me to write some really long tutorial posts with it shortly after installing it this summer (you know a product is good when it is so fun to use that you to stay inside during the summer and write tutorial posts on the weekends!).
What has been cool to see this week are a number of rave reviews start to come in from other people who have been loving it too.
Download Office 2007 today from the MSDN Download Center
If you are an MSDN subscriber, you can download your copy of Office 2007 from the MSDN download center today. It has a production license, which means you can use it for everything and anything.
To learn more about the design philosophy and thought that went into the new experience, I'd also recommend checking out the great posts on Jensen Harris' blog. Jensen is the Group Program Manager of the Microsoft Office User Experience Team and does a really good job of sharing some of the philosophy and background on what they've done with this release.
VS 2005 Tools for Office
To help take advantage of Office 2007 from a .NET developer perspective, last week we also released an updated "VS 2005 Tools for Office" that allows you to take advantage of Office 2007 features and UI. Included within it is support for the new Ribbon extensibility model.
You can learn more about it and download it today here. Also make sure to check out the Visual Studio Tools for Office blog here.
VS 2005 Extensions for Windows SharePoint Services 3.0
To help take advantage of Windows SharePoint Services 3.0 and Microsoft Office SharePoint 2007 (both of which support deep integration with Office 2007), last week we also released a new free VS 2005 Extensions for Windows SharePoint Services 3.0 download. This provides project and build support for SharePoint sites within Visual Studio 2005. Included within this is support for creating, building and debugging a Web Part within SharePoint by just hitting F5 on your project in Visual Studio (much easier than it has been in the past). You can download it here.
November 15th Update: Patrick Tissghem has posted a great "hello world" walkthrough that demonstrates how to use it:
Serge van den Oever has also recently posted some nice tutorials on how to use this new download:
I also recommend checking out this older blog post of mine that points to some good articles that walkthrough how to use the ASP.NET Web Part model built-into ASP.NET 2.0 to build rich SharePoint solutions. Darren Neimke has also recently published a cool new book specifically focused on ASP.NET 2.0 Web Part development:
You can buy it from Amazon today here.
Hope this helps,
Scott