Optimizing the Silverlight Install Experience
One of the things that is important to think about when you start using Silverlight in your sites/applications is to make sure you handle the "what if the end user doesn't have Silverlight installed yet?" scenario. Ideally you want to make sure that the installation experience for Silverlight is very seamless, and nicely integrated into your overall end user experience.
Silverlight "Indirect Install" Experience
By default when you use the Silverlight.js library to load a Silverlight control in a page, it will automatically detect whether Silverlight is installed on the visiting client machine, and if not prompt the user to install it via an install image the Silverlight.js library automatically injects into your page.
This default installation option is a model we call the "indirect install" option - because when the user clicks the install link it automatically opens up a new window with the Silverlight EULA and download page on Microsoft.com displayed.
The benefit with the indirect install option is that it works with any site (no custom JavaScript required). The downside, though, is that your visitors will end up navigating to a separate page to install Silverlight, and the overall end user experience won't feel super integrated within the rest of your site.
Silverlight "Direct Install" Experience
Silverlight also supports an installation approach that we call the "direct install" option - where you can directly integrate the setup of Silverlight in your site, and build a much more immersive and user-friendly experience.
When a user who doesn't have Silverlight installed clicks the install Silverlight image, you can author your site to directly download the Silverlight setup from Microsoft.com and immediately kick off the setup program. When the setup program completes, you can then automatically refresh the HTML page and immediately launch the Silverlight content on your site (the user doesn't have to navigate or manually click refresh to enable this). The overall process takes less than 20 seconds on a broadband connection, and the end user experience feels really integrated and easy.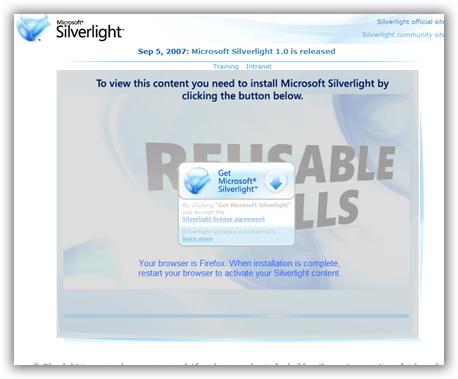 Silverlight Installation Experience Whitepaper + Sample
Earlier today we published a whitepaper and set of sample scripts that walksthrough how to build a Silverlight "Direct Install" Experience on your own site. You can download them for free here. You can learn even more about it on Tim Sneath's blog here.
The whitepaper and sample scripts demonstrate both how to enable the direct install experience, as well as how to design the HTML UI of the site so that you can easily encourage end users to naturally click the install link.
Silverlight Books
To learn more about how to use Silverlight 1.0 to build cool media and interactive experiences, also check out some of the new Silverlight 1.0 books that are now all shipping:
Hope this helps,
Scott