Updated ASP.NET AJAX Control Toolkit Release and New ASP.NET AJAX Videos/Articles
Last week the ASP.NET AJAX Control Toolkit team released Build 10618 of the ASP.NET AJAX Control Toolkit. This fixed a few issues discovered with the release earlier this month including:
A fix for the Tabs naming container
A fix for a VS design-time dependency
FilteredTextBox Navigation and control key issues
This build also contains additional performance optimizations for the new "script combining" feature provided by the new ToolkitScriptManager control. This feature can help significantly improve performance for pages with multiple AJAX scripts that previously needed to be downloaded separately. David Anson has a nice blog post that talks about these improvements here.
New ASP.NET AJAX Videos
Joe Stagner has recently posted five new (free) ASP.NET AJAX videos on www.asp.net: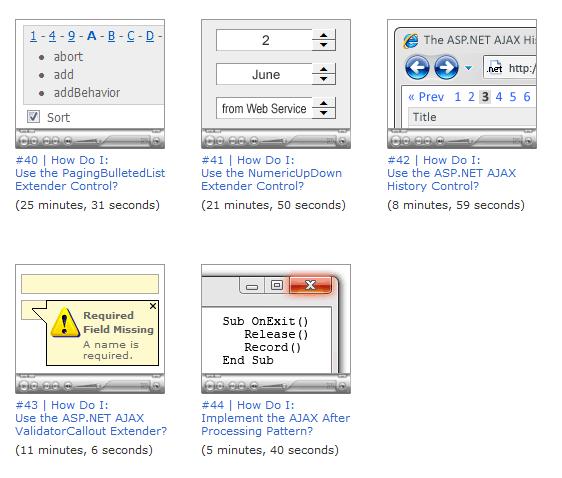 You can download and watch the videos here. These new videos are available to download in a variety of video and audio formats including: WMV, Zune, iPod, PSP, MPEG-4, and 3GP.
New ASP.NET AJAX Articles
Here are a few recent ASP.NET AJAX articles you might also want to check out:
ASP.NET AJAX UpdatePanel Tips and Tricks: This is a great MSDN Magazine article by Jeff Prosise that covers: update highlighting, how to cancel updatepanel updates, optimizing with conditional updatepanels, and using page methods.
AJAX Control Toolkit Patch Utility: If you are not an official contributor to the ASP.NET AJAX Control Toolkit project, but would like to submit a bug fix or small feature into the toolkit, you can read this article to learn how to create and submit a patch to the team for them to review and potentially include.
ASP.NET AJAX 1.0 Books
As I've mentioned in other recent posts, the first books specifically targeting the final ASP.NET AJAX 1.0 release were recently published. Below are links to two of them that are shipping today:
Both books also include a chapter on using the controls within the ASP.NET AJAX Control Toolkit.
Hope this helps,
Scott