VS 2008 Multi-Targeting Support
Earlier this month at TechEd we announced the official name of Visual Studio "Orcas" - which will be called Visual Studio 2008. We also said that the official name for the .NET Framework "Orcas" release will be called .NET Framework 3.5 (it includes the new LINQ support, integrated ASP.NET AJAX support, new ASP.NET data controls, and more).
VS 2008 and .NET 3.5 Beta 2 will ship later this summer, and the Beta 2 release will support a go-live license for those who want to put applications into production using the new features immediately.
What is Multi-Targeting?
With the past few releases of Visual Studio, each Visual Studio release only supported a specific version of the .NET Framework. For example, VS 2002 only worked with .NET 1.0, VS 2003 only worked with .NET 1.1, and VS 2005 only worked with .NET 2.0.
One of the big changes we are making starting with the VS 2008 release is to support what we call "Multi-Targeting" - which means that Visual Studio will now support targeting multiple versions of the .NET Framework, and developers will be able to start taking advantage of the new features Visual Studio provides without having to always upgrade their existing projects and deployed applications to use a new version of the .NET Framework library.
Now when you open an existing project or create a new one with VS 2008, you can pick which version of the .NET Framework to work with - and the IDE will update its compilers and feature-set to match this. Among other things, this means that features, controls, projects, item-templates, and assembly references that don't work with that version of the framework will be hidden, and when you build your application you'll be able to take the compiled output and copy it onto a machine that only has an older version of the .NET Framework installed, and you'll know that the application will work.
Creating a New Project in VS 2008 that targets .NET 2.0
To see an example of multi-targeting in action on a recent build of VS 2008 Beta 2, we can select File->New Project to create a new application.
Notice below how in the top-right of the new project dialog there is now a dropdown that allows us to indicate which versions of the .NET Framework we want to target when we create the new project. If I keep it selected on .NET Framework 3.5, I'll see a bunch of new project templates listed that weren't in previous versions of VS (including support for WPF client applications and WCF web service projects):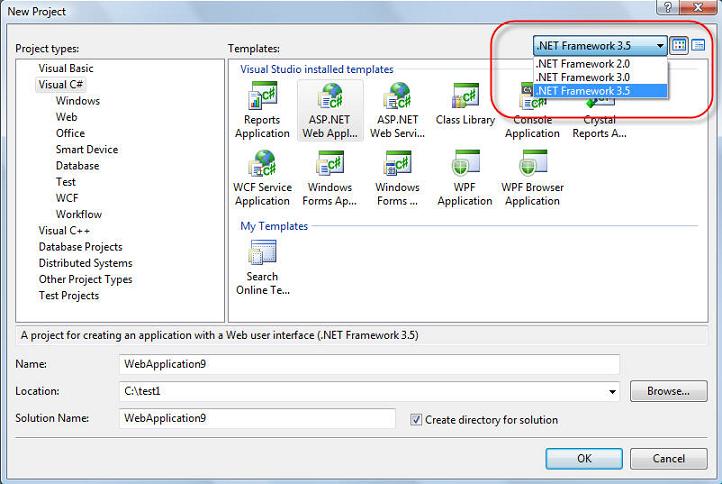 If I change the dropdown to target .NET 2.0 instead, it will automatically filter the project list to only show those project templates supported on machines with the .NET 2.0 framework installed: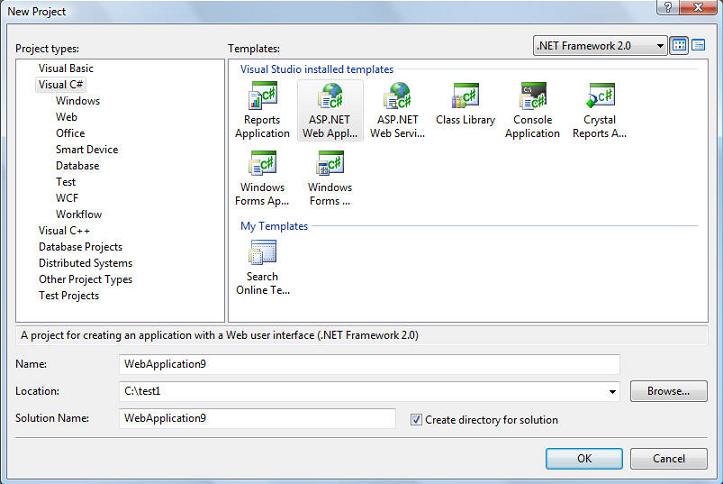 If I create a new ASP.NET Web Application with the .NET 2.0 dropdown setting selected, it will create a new ASP.NET project whose compilation settings, assembly references, and web.config settings are configured to work with existing ASP.NET 2.0 servers: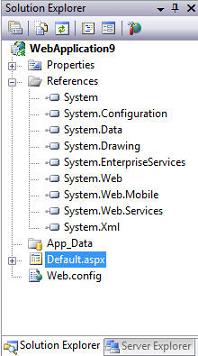 When you go to the control Toolbox, you'll see that only those controls that work on ASP.NET 2.0 are listed: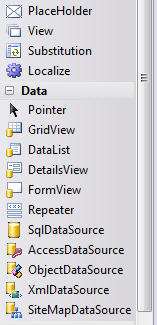 And if you choose Add->Reference and bring up the assembly reference picker dialog, you'll see that those .NET class assemblies that aren't supported on .NET 2.0 are grayed out and can't be added to the project (notice how the "ok" button is not active below when I have a .NET 3.0 or .NET 3.5 assembly selected):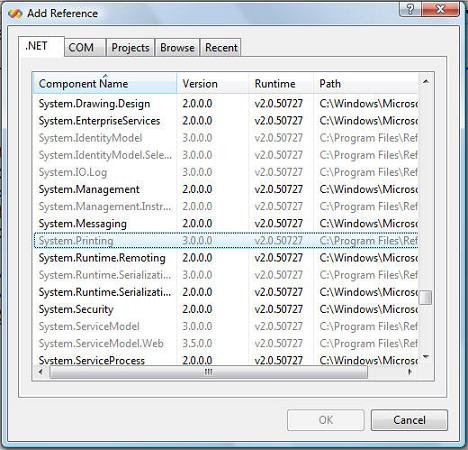 So why use VS 2008 if you aren't using the new .NET 3.5 features?
You might be wondering: "so what value do I get when using VS 2008 to work on a ASP.NET 2.0 project versus just using my VS 2005 today?" Well, the good news is that you get a ton of tool-specific value with VS 2008 that you'll be able to take advantage of immediately with your existing projects without having to upgrade your framework/ASP.NET version. A few big tool features in the web development space I think you'll really like include:
JavaScript intellisense
Much richer JavaScript debugging
Nested ASP.NET master page support at design-time
Rich CSS editing and layout support within the WYSIWYG designer
Split-view designer support for having both source and design views open on a page at the same time
A much faster ASP.NET page designer - with dramatic perf improvements in view-switches between source/design mode
Automated .SQL script generation and hosting deployment support for databases on remote servers
You'll be able to use all of the above features with any version of the .NET Framework - without having to upgrade your project to necessarily target newer framework versions. I'll be blogging about these features (as well as the great new framework features) over the next few weeks.
So how can I upgrade an existing project to .NET 3.5 later?
If at a later point you want to upgrade your project/site to target the NET 3.0 or NET 3.5 version of the framework libraries, you can right-click on the project in the solution explorer and pull up its properties page: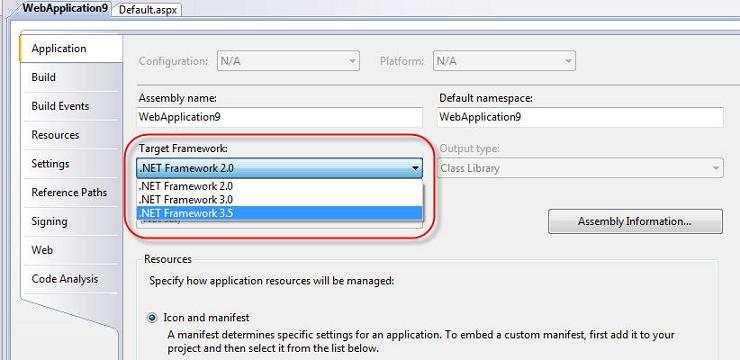 You can change the "Target Framework" dropdown to select the version of the framework you want the project to target. Doing this will cause VS to automatically update compiler settings and references for the project to use the correct framework version. For example, it will by default add some of the new LINQ assemblies to your project, as well as add the new System.Web.Extensions assembly that ships in .NET 3.5 which delivers new ASP.NET controls/runtime features and provides built-in ASP.NET AJAX support (this means that you no longer need to download the separate ASP.NET AJAX 1.0 install - it is now just built-in with the .NET 3.5 setup):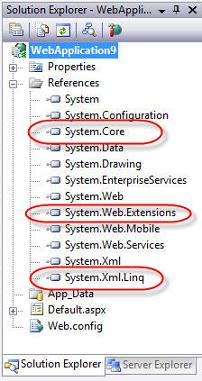 Once you change your project's target version you'll also see new .NET 3.5 project item templates show up in your add->new items dialog, you'll be able to reference assemblies built against .NET 3.5, as well as see .NET 3.5 specific controls show up in your toolbox.
For example, below you can now see the new <asp:listview> control (which is an awesome new control that provides the ability to do data reporting, editing, insert, delete and paging scenarios - with 100% control over the markup generated and no inline styles or other html elements), as well as the new <asp:linqdatasource> control (which enables you to easily bind and work against LINQ to SQL data models), and <asp:datapager> control show up under the "Data" section of our toolbox: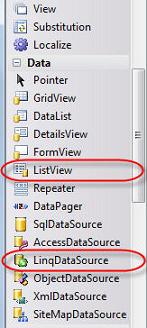 Note that in addition to changing your framework version "up" in your project properties dialog, you can also optionally take a project that is currently building against .NET 3.0 or 3.5 and change it "down" (for example: move it from .NET 3.5 to 2.0). This will automatically remove the newer assembly references from your project, update your web.config file, and allow you to compile against the older framework (note: if you have code in the project that was written against the new APIs, obviously you'll need to change it).
What about .NET 1.0 and 1.1?
Unfortunately the VS 2008 multi-targeting support only works with .NET 2.0, .NET 3.0 and .NET 3.5 - and not against older versions of the framework. The reason for this is that there were significant CLR engine changes between .NET 1.x and 2.x that make debugging very difficult to support. In the end the costing of the work to support that was so large and impacted so many parts of Visual Studio that we weren't able to add 1.1 support in this release.
VS 2008 does run side-by-side, though, with VS 2005, VS 2003, and VS 2002. So it is definitely possible to continue targeting .NET 1.1 projects using VS 2003 on the same machine as VS 2008.
What is compatibility like moving from VS 2005 to VS 2008 and .NET Framework 2.0 to 3.5?
We are trying to make sure that .NET Framework 3.5 is a super compatible upgrade from .NET 2.0, and not require you to change any code in order to target the new framework version. We've deliberately made only non-breaking modifications to existing .NET assemblies in the .NET 3.5 release, and where possible added new features in separate assemblies to minimize the chance of breaking changes.
We are also not making project model or build changes with VS 2008. I, like you, hope to never to go through that again! Both the "web site" and "web application project" models will be fully supported going forward.
Hope this helps,
Scott