Firefox and Mozilla search plug-ins for Google Desktop Search

Now that Google Desktop Search is out (still beta), it's already time to improve the user experience ;-)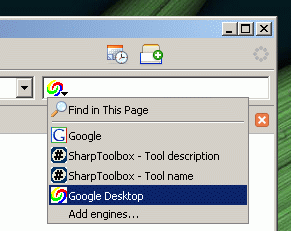 What you need to make Google Desktop even better is a Firefox/Mozilla search plug-in. As soon as it is installed, you can start searching your local machine right from Firefox.
Get the plug-in right now.
Let me know if everything's OK or if you have problems.
Reminder: you can also get plug-ins for SharpToolbox.