Personal VS.Net Editor Color/Font Settings (again)
Sometimes after quite some time an old weblog entry unexpectedly starts drawing feedback. So for those who like my VS.Net font and color settings...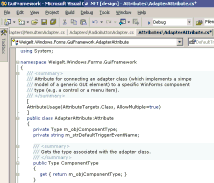 ...here's the registy file that I use to transfer my settings when I install VS.Net on a new system. As this registry file may contain more settings than you would like to have changed, please do yourself a favor and backup your current settings by exporting HKEY_CURRENT_USER\Software\Microsoft\VisualStudio\7.1\FontAndColors in Regedit before using the registry file.