Emaroo 3.6.0 Released – Run or Read!
Emaroo is a free utility for browsing most recently used (MRU) file lists of programs like Visual Studio, Word, Excel, PowerPoint and more. Quickly open files, jump to their folder in Windows Explorer, copy them (and their path) to the clipboard - or run your own tools on the MRU items! And all this with just a few keystrokes or mouse clicks.
About this Release
Visual Studio solution directories often contain batch files and/or HTML or Markdown files.
Until now, my usual workflow to open one of them from outside of Visual Studio was to…
press Win+1 to start Emaroo (which I have pinned to the taskbar)
select the solution
hit Ctrl+E to open the Windows Explorer
browse through the (sometime long) list of files and
open the file I was looking for.
Version 3.6.0 adds a new feature to make this much easier.
Either I open the context menu by right-clicking the list entry for the solution…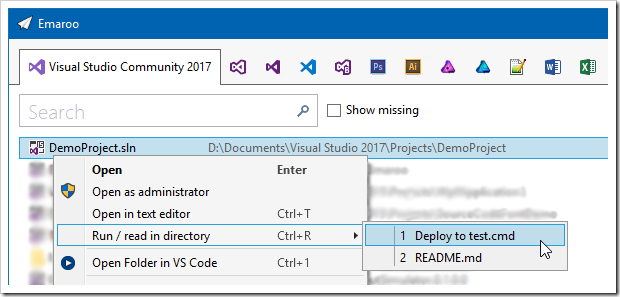 …or – even faster – I hit the hotkey Ctrl+R (to run or read):
See Also