Emaroo 4.1 – Hide Those Tryout Visual Studio Projects!
Emaroo is a free utility for browsing most recently used (MRU) file lists of programs like Visual Studio, VS Code, Word, Excel, PowerPoint, Photoshop, Illustrator and more. Quickly open files, jump to their folder in Windows Explorer, copy them (and their path) to the clipboard - or run your own tools on files and folders with custom actions!


Download Emaroo on www.roland-weigelt.de/emaroo
Get ready-to-use custom actions on GitHub, e.g.

Open a Visual Studio project/solution in a specific version of Visual Studio
Open the Visual Studio developer command line
Open a file or folder in Visual Studio Code
Open a folder in Git Bash or Git GUI
Attach a file to a new email in Outlook

Learn how to write your own custom actions in a quick step-by-step guide.
About this Release
With Emaroo 4.1, you can now hide files or directories This is nice for hiding all those small tryout projects ("App1", "App2", etc.) that you are just not quite ready yet to delete on disk.
Open the context menu and check the "Hide in list" option: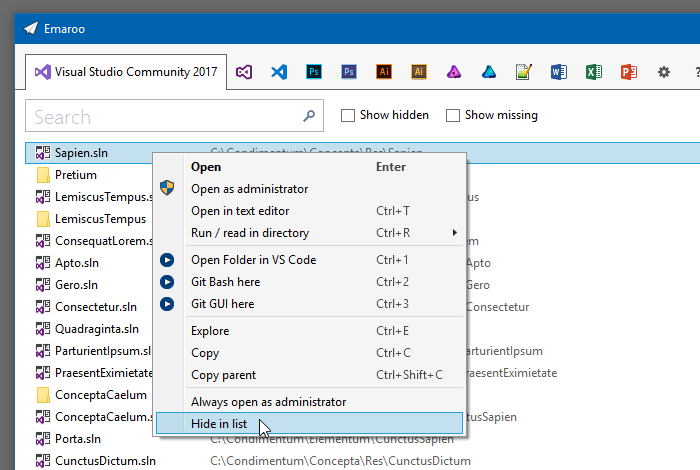 To make a hidden list item visible again, check the "Show hidden" checkbox (to show all hidden items)…

…and open the context menu on the item you want to show again.
Then uncheck the "Hide in list" option:

The release also fixes a couple of bugs, so an update is definitely recommended!
Read the full release notes on the Emaroo website.