Save and Restore Webcam Properties with CamProps 1.2.0
CamProps is a free utility for quickly adjusting and managing the properties of webcams and other video capture devices. I wrote it when I struggled with my Logitech C920 that required some manual tweaking to achieve a good picture quality. CamProps enables you to store and quickly recall settings which comes in handy if you have different lighting situations in your room – or when the webcam once again simply "forgets" its settings.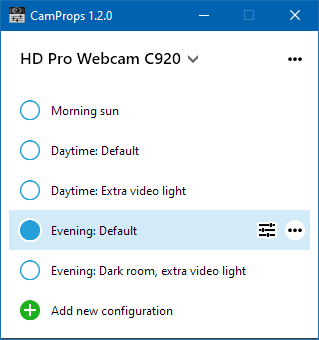 About this version
I recently I received feedback from CamProps user José M. Alarcón (who also helped me with the Spanish translation). He has created a large number of presets to deal with the ever-changing lighting conditions in his office. It turned out that the auto-sizing of the main window did not work well, cutting off the list after an arbitrary number of items instead of showing a scroll bar.
Version 1.2.0 fixes this. As previously, the window sizes to its content at startup, but can now be resized and shows a scrollbar if necessary. When you add a new configuration, the window resizes to fit its content.
Where can I get it?
You can download CamProps at https://www.roland-weigelt.de/camprops/
Which devices can I use?
CamProps works with all webcams and video capture devices that support opening the webcam driver property dialog (either the default provided by Windows or a specific dialog by the manufacturer's driver).
For instance, when you press the "

" button for a Logitech C920 without the Logitech software installed, this will open the following dialog: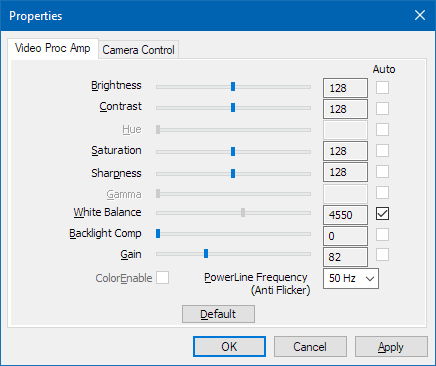 (This dialog may look different for other devices)